SSD data recovery services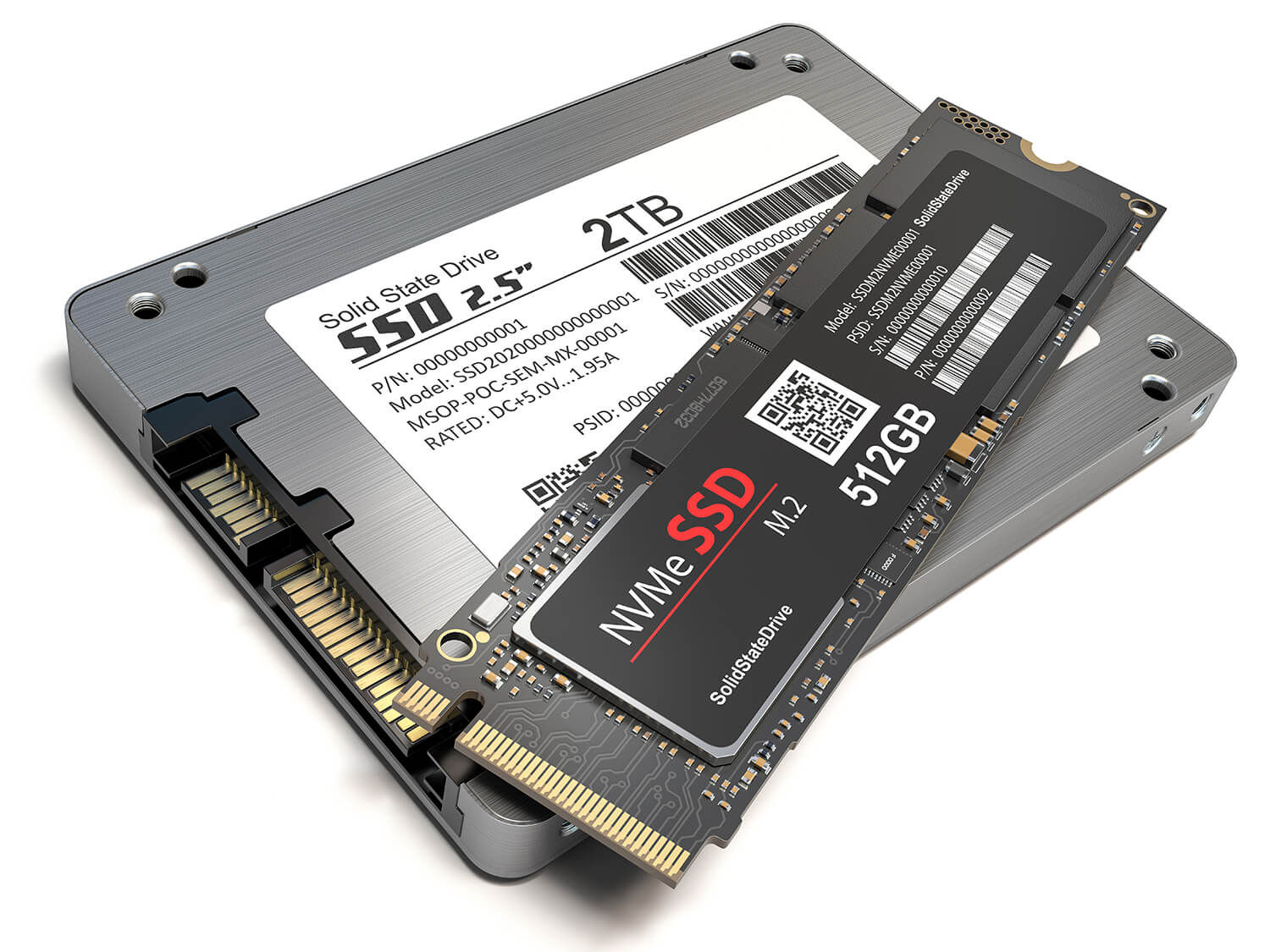 Unlike conventional hard drives that contain read-write heads and magnetic disk platters, SSD drives are equipped with fast electronics, consisting of a complex array of very fast NAND flash memory chips. Most of the modern SSD drives come with sophisticated encryption algorithms that are designed to protect user data as well as the manufacturer's intellectual property.

The main component of the SSD drive is the controller that uses complex algorithms designed to distribute data across flash memory chips (NAND). The absolute advantage of SSD over the HDD is speed; however, one must realize that SSD is still a fairly new tech and proper backups must be maintained. We recommend using SSD drives as boot drives or for gaming systems. If you plan on using SSD storage media for storing your data, we highly recommend considering investing in a well-known technology, such as a hard drive, combined into a RAID array. You may have a simple mirror raid (RAID1) which would mirror data across two drives, or you may get a more complex RAID5 configuration where we recommend a minimum of four hard drives. If we are helping you with your data recovery project, you will also benefit from our complimentary backup consulting services.
While we enjoy the fast speed of modern SSD drives, they definitely lack the most critical factor - reliability. While theoretically SSD drives are a new modern technology, the lifespan of an average solid-state drive is between one to three years, depending on the use and the application. Keeping that factor in mind should help you set proper expectations and help organize your backup strategy accordingly.
Some popular SSD drive interfaces are:
SATA, mSata, M.2, U.2, PCIe, NVMe.
SSD manufacturers that are marketed and sold these days are:
ADATA, Apple, Corsair Memory, Crucial, HGST, Imation, Intel, Kingston, Lexar Media, Micron Technology, Mushkin, OCZ, Toshiba, OWC, Patriot Memory, Plextor, PNY Technologies, Samsung, SanDisk, WD, Seagate Technology, Silicon-Power, Silicon Motion Technology, SK Hynix, Synology.
Whether it's an Apple MacBook Air, Apple MacBook Pro, iMac, MacMini - they may all be equipped with a solid-state drive. Some of the newer MacBook laptops and Microsoft Surface computers contain SSD on the mainboard or logic board. Most of these models are still recoverable and we have the data recovery solutions that help us address issues that seem hopeless.
With over 17 years of professional data recovery experience, our team has what it takes to reunite you with your lost data, whether it's crucial business data or sentimental home photos and videos of your loved ones.
We are able to recover data from most solid-state drives, whether encrypted or not, Apple, Dell, Lenovo, HP, Microsoft, Acer and other brands of laptop or desktop computers.
Both local Apple stores in Ottawa (Bayshore and Rideau) have been referring their local customers to us for various data recovery needs, and we've done our best to keep that recovery rate increasing.
We have successfully recovered data from encrypted FileVault containers, corrupted Time Machine backups, damaged Fusion drive configurations, and failed Apple SSD drives.
We will help you get your data back quickly and securely, so you can get back up and running with minimal downtime.
Reach out to our support team to get assistance with your project. We only aim for a successful outcome.
---
24hr turn around. Response time within hours of your inquiry. Price appropriate for incredible service. Friendly. Above and beyond to put your mind at ease. I received a call on a Friday afternoon to tell me my data would be 100% recoverable "just so I could enjoy my weekend" (quoted from the tech who called me). 11/10! Highly recommended. Thank you!
Patrick.
Project submission
You are welcome to drop by Monday to Friday, 10 a.m. to 5 p.m. to bring your project. If you are out of city customer, we can send you a free shipping label.
Diagnostics
We offer emergency, standard and economy evaluations, ranging from overnight turn-around to 5 business days for economy.
Quote approval
Upon completion of diagnostics, you will receive a quote for the approval. Once approved, we'll resume your data recovery project.
Project completion
Your recovered data will be transferred onto an external hard drive or uploaded to a secure server for you to download your data, minimizing your downtime.
Please, fill out the form below to get help with your data recovery project